3D Printed Game Components
I remember the first time I saw a 3D printer in action. It was in the 1990s at a university where the demonstration was about using the new technology for scenic design models or for printing the prop that was impossible to find or afford. It was enclosed in a plexiglass box and extremely fascinating to watch. And through the years we've been aware of the technology, finally approaching a price that is affordable by all for the home hobby or business. So when we began brain-storming our first few games for play-testing, we decided to invest in the machine that would allow us to make our own game pieces, to easily see what would be the most effective shapes and sizes.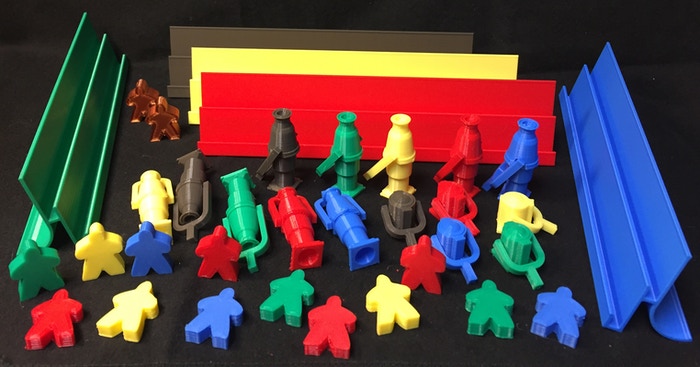 One of the positive aspects of our theatre education and backgrounds is that we were already using CAD (computer aided design) programs for designing lighting plots, scenery renderings, models and props. We understand how to create 3 dimensional objects in a scaled drawing so it wasn't much of a stretch to design our own game board trays or meeples. There is also a rich community online that is willing to share 3D files or are willing to assist if you need help.
As we have been developing our educational theatrical games, we have printed card holders, game piece holders, and game pieces. We printed miniature lighting instruments for Let There Be Light and for Break-A-Leg we added this final game component of Reps, so we 3D printed them.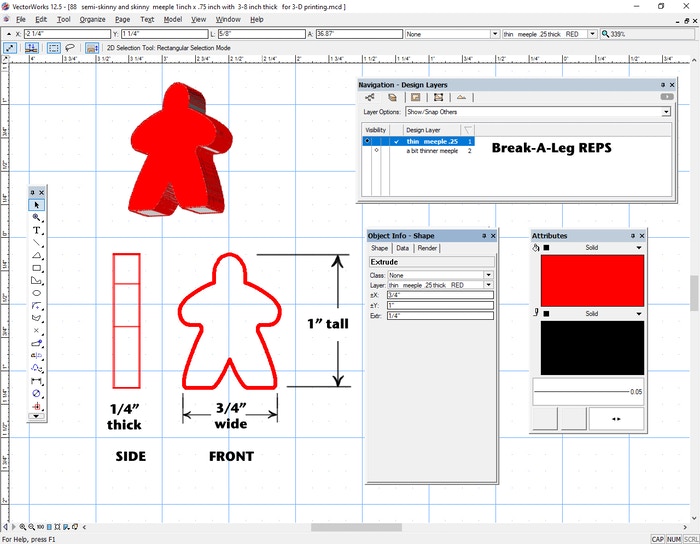 To 3D print our Reps, we needed to begin with a computer-aided-drafted file that is drawn in scale. Once drawn, you export the file, from your drafting program (we use Vectorworks) to a file format that will open in the program Ultimaker Cura (a 3D printing software), you can move to the next step.
The CAD file was one Rep, and we wanted to print as many as possible at one time so after a little math, we decided to try printing thirty Reps at one time. Cura will help you duplicate and resize items and is also the program that will slice the item into layers for 3D printing and determine how much of the interior is filled. There are several choices within the program to determine the details on how it is printed.
We believe this Rep from PLA sourced material will withstand the rigors of game play better than cardboard or paper. Originally, for our play-testing we printed a little larger Rep that was a very satisfying tactile item, but bulky, and we needed to find a size that was both cost effective and made in the USA. We wanted a visible component so players could see exactly what Teams everyone had already procured, allowing players to react more defensively, which added an extra layer to playing the game. Ultimately, many of the Meeples available to purchase were quite tiny, three eighths inch by five-eigths inch tall, significantly cost-prohibited, and manufactured in other countries. So we did the math: we cut a five foot length of PLA filament and printed one Rep calculating its cost and then determined the cost to print 20 Reps (enough for one game).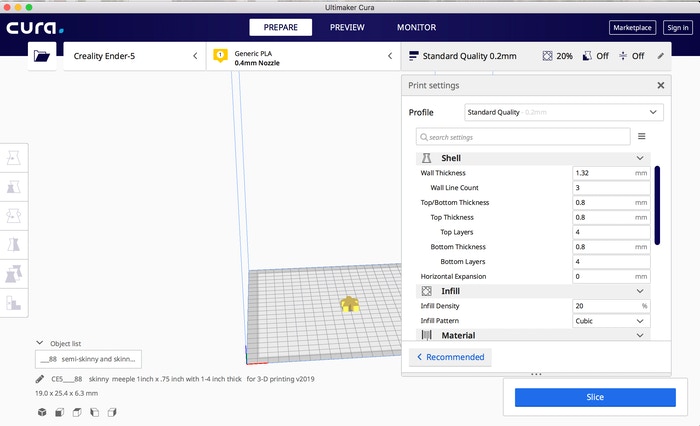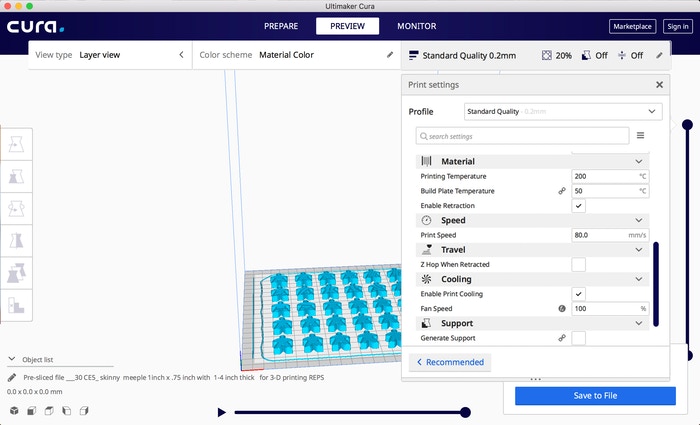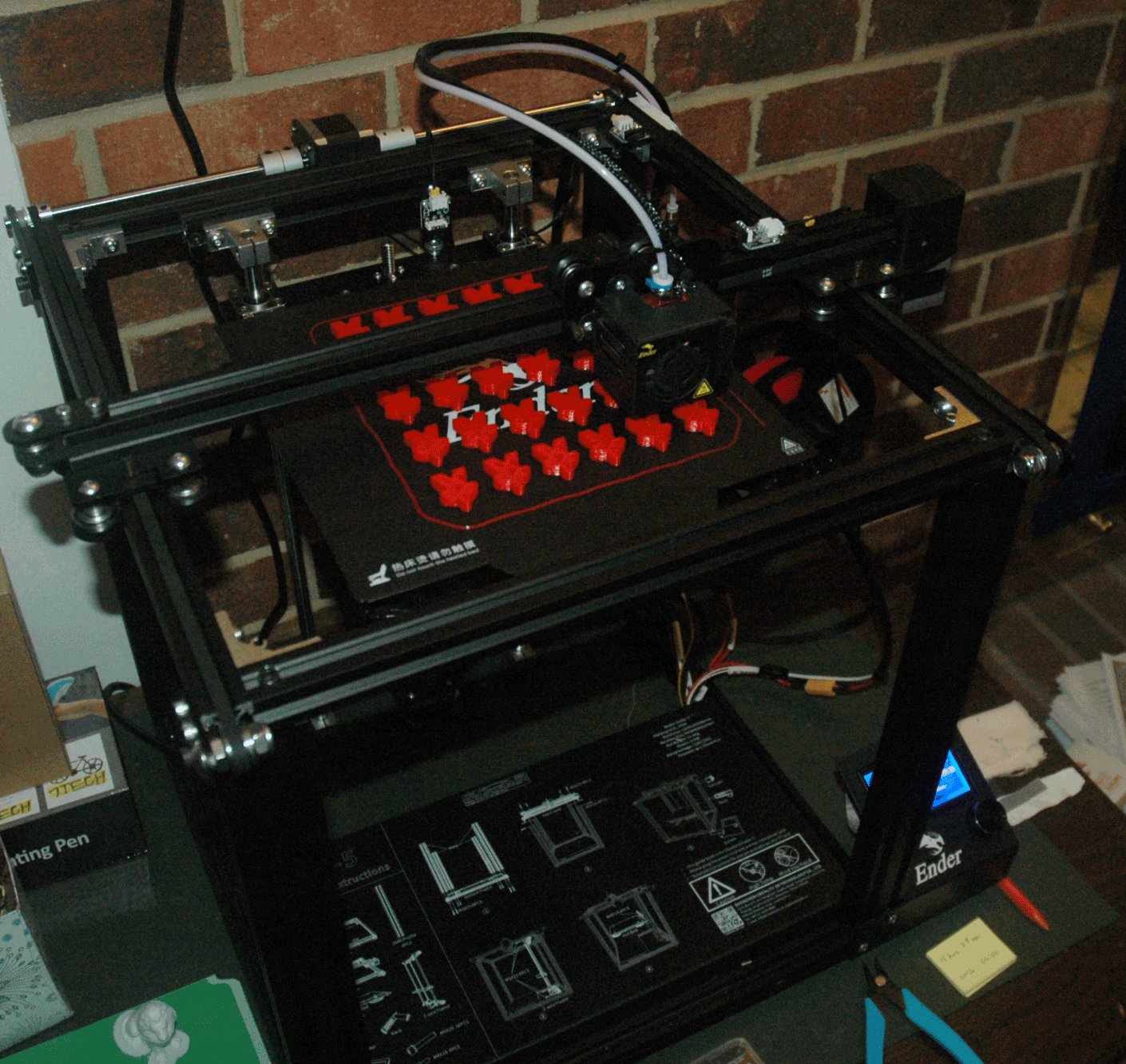 So ultimately, we print 30 Reps of one color at a time and it takes about 4.5 hours of printing. Time consuming?… a little …but we like the size and quality, and we can say, "Made in USA!" for sure!
We really enjoy watching our little 3D printer knock out sets of equipment for our game. While looking for a little research online, I stumbled across another interesting 3D printer opportunity - 3D printers of food! My favorite choice would be: Chocolate! What fun that could be! But for now, we'll settle for the red, blue, green, and yellow Reps for our game, Break-A-Leg!
Break a Leg.
The Theatrical Card Drafting Game.
Break a Leg is the new fast-paced card drafting game from Tidwell Productions. Take on the role of a theatrical producer and hire the best cast, creative, and crew, and foil the plans of your opposing producers! Buy Now on the Tidwell Productions Shop!